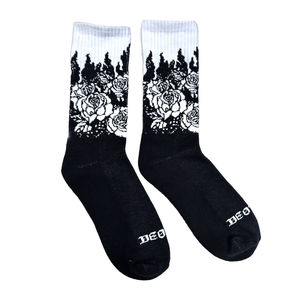 * Socks will be shipped within  4 weeks*
Rosa de Fuego design.
Calf-high stretch knit cotton and nylon-blend socks in black. 
One size 
1 Pair 
Washing: In order to get the best wash results, we recommend turning your shirts inside out before you wash. Wash using cold water. Use Gentle Wash soap. Wash on the most Gentle setting also wash for the least amount of time. 
DO NOT ADD BLEACH !!